Calling all Vendors!
You may ask yourself, why would you want to come to a Fargo event? Well we have outlined some of the characteristics of our event that may catch yout attention.
Vendor Exclusivity - All vendors at the event are COMMERCIAL. Hobbiest tables are kept to a minimum at this event to make sure vendors are able to provide the best livestock and products available.
Cost Effective - The table prices are kept as inexpensive as possible to make sure we are able to bring in the best vendors. Tables are priced to break even on the event costs, not to make a profit on the Vendors. (See below for actual pricing)
Underserved Market - We have a some great local and regional businesses supporting the hobbies and keeping of exotics. With the growing market there are always people looking for something special that they cannot get locally.
Brand Exposure - All involved will be featured on the website, advertising and social networking. Vendors will be featured also in press releases and may even be featured in LIVE news shots!
Hobby Crossover - Many of our attendees cross over between the hobbies. The event draws in a diverse crowd with a wide range of interest and experience. We hope The event may be the final step to them acquiring new interest and keeping of exotic critters.
Charitable Contributions - Profits from the event are donated to charitable organizations related to the hobbies to help protect and benefit the hobbies we love.
Kid Zone! - We all love to see the children and their enthusiasm toward the hobbies. We have gone the extra step and created a place just for the children where they can safely play, color, etc while the parents check out the rest of the event.
Vendor Pricing
Type A (Blue) - 2 or 3 Side Endcap Booth - $120
Type B (Green) - 2 Side Endcap Boot - $110
Type C (Purple) - Outside Wall Booth - $100
Type D (Yellow) - Interior Booth - $90
Add Ons:
8' Table - $10
Folding chair - $2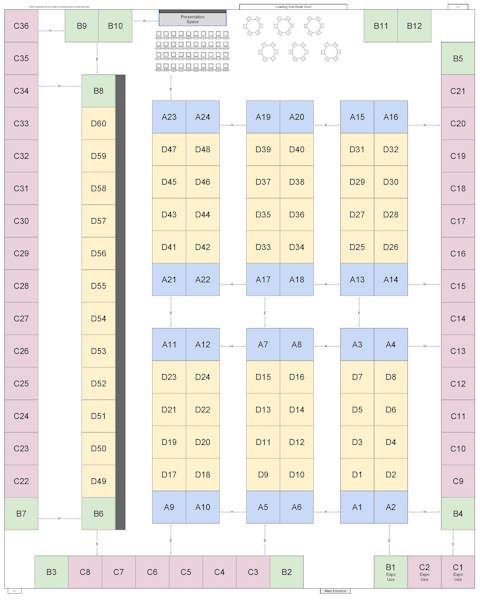 Vendor space is available for reservation by 10sq ft booth (10' x 10') in different configurations. Vendors can reserve more than one booth to allow for the larger setups. A map is attached lower on this document with the space layout. Booth configuration is flexible within the 10 foot space, but modification of layout and setup must pass Expo staff approval.
Space will be considered reserved once payment has been received. Expo space is reserved for commercial vendors exclusively. We reserve the right to fill as needed with other interested non-commercial parties, hobby-level or club organizations as needed.
All vendors will have an advertisement featured on the website along with their logo strategically placed on select print materials. Vendor participation will be announced via Social Media marketing as well. We will do our best to make sure all vendors get as much visibility as possible in Expo resources whether print or digital.
*** Table(s) not considered reserved until payment has been made ***
Vendor Benefits
Advertisement on Website
Logo on print materials
Social Networking Exposure
Event Booklet Logo/Name
All vendors have the opportunity to place advertising materials in the goodie bags given to all attendees.
Vendors are encouraged but not required to participate in the Charity Drawing.
All vendors will also receive priority marketing for future events!
We do have a private Facebook group as a Vendor Lounge to discuss Expo changes, dates and other important topics. If you have been a vendor or are signed up to be a vendor, contact our FB page to get the invite link!
Setup:
Vendors will have the opportunity to utilize the overhead during specified setup times. The night before will be a for sure on availability. However the day of the event we may not be able to facilitate this. Please be sure to communicate if the use of the overhead door is something you are interested in.